Lewis Hamilton lost the world championship lead after retiring from a sobering Austrian Grand Prix for Mercedes, as Max Verstappen took an unexpected victory for Red Bull.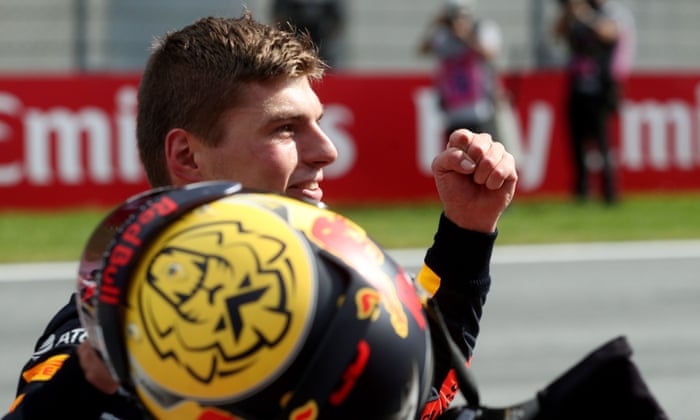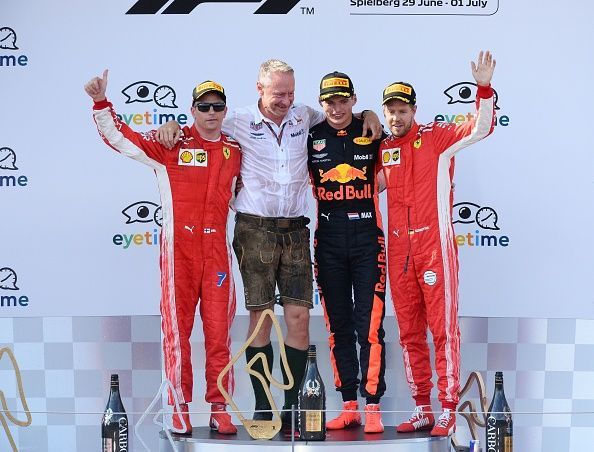 Hamilton retired due to a loss of fuel pressure with eight laps to go as he was looking to regain his title lead following a Mercedes strategy blunder and tyre problems.
His retirement, with title rival Sebastian Vettel finishing third in his Ferrari behind team-mate Kimi Raikkonen, puts Vettel into a one-point lead heading into next weekend's British Grand Prix.
Mercedes will leave Austria and head to Silverstone with plenty on their minds as they ponder how what had looked set to be an easy one-two on a weekend they had dominated fell apart.
Their problems handed a first win on their home track to Red Bull, for whom Verstappen drove beautifully to control the race once Mercedes hit their problems, well out of reach of the pursuing Ferraris.
What had appeared set to be a comfortable cruise to a one-two for Hamilton and Valtteri Bottas began to fall apart for Mercedes relatively early on.
Bottas started from pole but Ferrari's Kimi Raikkonen muscled between the Finn and Hamilton off the line and took second place, with Hamilton into the lead and Bottas briefly falling back behind Verstappen into fourth after the first corner.
Bottas reclaimed second place with a brave move around the outside of Verstappen and Raikkonen into Turn Four and Mercedes looked to be in control.
But Bottas retired on lap 14 of 71 with a loss of hydraulic pressure, and Mercedes' strategists failed to react to the imposition of the virtual safety car, which remotely forces all cars to reduce speed, as his car was recovered.
Stopping under the VSC costs less time than during active racing and all the leading teams apart from Mercedes took advantage. The world champions soon realised they had made a grave error.
Verstappen rejoined just 13 seconds behind Hamilton, with Raikkonen and Red Bull's Daniel Ricciardo also close enough to mean the Briton would come out behind them when he stopped.
Mercedes' chief strategist James Vowles came on to the radio to apologise to Hamilton, saying it was his error – a message he had to repeat later in the race after his driver complained about the team "throwing away a win".
It was the third time this season that Mercedes' strategists had made an error around a safety car – after Hamilton lost a win in Australia in March, they failed to stop him under a safety car in China.
But as it happened, Mercedes cascading series of problems made the strategy error moot.
Hamilton stopped on lap 25 for tyres and rejoined in fourth, ahead of Vettel. But the world champion was soon struggling with rear tyre wear and his rival closed in, and overlook on lap 39.