Richard Gere married publicist Alejandra Silva this spring.
Now, a new report claims, the 68-year-old actor and his 35-year-old Spanish bride are preparing to start a family.
According to Britain's The Sun and other outlets, respected Spanish newspaper ABC is reporting that Alejandra is pregnant. The "Pretty Woman" star and his wife, who dated for four years before tying the knot, have yet to comment.
It would be the second child for each, as Richard has an 18-year-old son, Homer, with second wife Carey Lowell, while Alejandra has a 5-year-old son, Alberto, from her first marriage to Govind Friedland, who's the son of mining magnate Robert Friedland, The Sun reports.
The same Madrid-based newspaper that is revealing the pregnancy news also broke the news that Richard had quietly married Alejandra four months ago, MailOnline points out.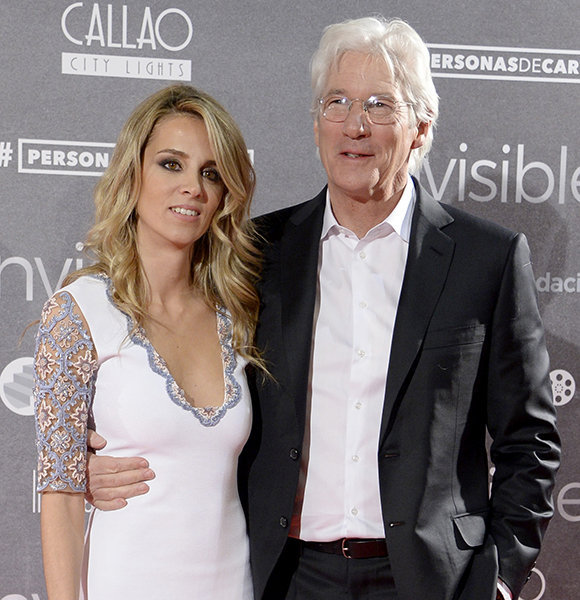 Richard and Alejandra first had a civil ceremony in her native Spain in April then celebrated with a second wedding for family and friends a few weeks later on Cinco de Mayo at the actor's estate in Pound Ridge, New York.
The bride wore two wedding dresses by Israeli designer Yaniv Persy at her American ceremony and reception, People magazine reported. The couple, who are Buddhists, also welcomed several Tibetan monks to their celebration, People added.
"I was born Catholic but converted to Buddhism two years ago," Alejandra told Spain's ABC newspaper in 2015, per People. "I think it was already inside of me. I believe in reincarnation so that's why I think I was Buddhist before realizing it."
Reports reveal that Alejandra previously told HELLO! magazine that she and Richard hoped to start a family together. She also gushed to HELLO!, "I was a little lost, without light, and knowing [Richard] gave meaning to my life. It was feeling that someone was reaching out and showing me my true path."