South African anti-apartheid campaigner Winnie Madikizela-Mandela has died aged 81, her personal assistant says.
Winnie Madikizela-Mandela was the former wife of South Africa's first black president, Nelson Mandela.
The couple – famously pictured hand-in-hand as Mr Mandela walked free from prison after 27 years – were a symbol of the anti-apartheid struggle for nearly three decades.
However, in later years her reputation became tainted legally and politically.
Family spokesman Victor Dlamini said Mrs Mandela "succumbed peacefully in the early hours of Monday afternoon surrounded by her family and loved ones" following a long illness, which had seen her go in and out of hospital since the start of the year.
Mrs Madikizela-Mandela was born in 1936 in the Eastern Cape – then known as Transkei.
She was a trained social worker when she met her future husband in the 1950s. They went on to have two daughters together, Zindziswa Mandela, Zenani Mandela
They were married for a total of 38 years, although for almost three decades of that time they were separated due to Mr Mandela's imprisonment.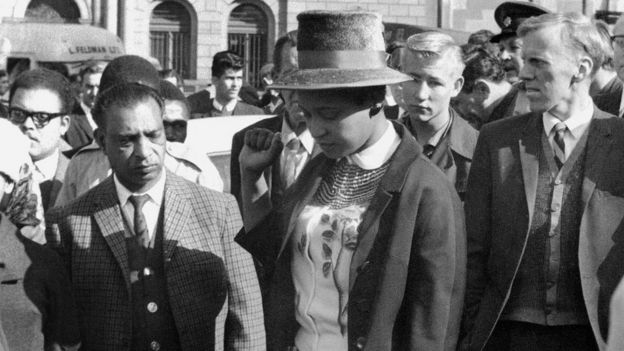 It was Mrs Madikizela-Mandela who took his baton after he was jailed for life, becoming an international symbol of resistance to apartheid. She too was jailed for her role in the fight for justice and equality.
To her supporters, she became known affectionately as "Mother of the Nation".
After news of her death broke, hundreds of her supporters gathered outside of her home in Soweto, Johannesburg to sing and dance in tribute.
In a televised address President Cyril Ramaphosa – whom Mrs Madikizela-Mandela praised earlier this year – called her as a "voice of defiance" against white-minority rule.
"In the face of exploitation, she was a champion of justice and equality," he said on Monday.
"She as an abiding symbol of the desire of our people to be free".
Retired archbishop and Nobel laureate Desmond Tutu said she was a "defining symbol of the struggle against apartheid".
"Her courageous defiance was deeply inspirational to me, and to generations of activists," he added.
Energy Minister Jeff Radebe, reading out a statement on behalf of the family, paid tribute to "a colossus who strode the Southern African political landscape".
"As the ANC we dip our revolutionary banner in salute of this great icon of our liberation struggle," he said.
"The Mandela family are deeply grateful for the gift of her life and even as our hearts break at her passing we urge all those who loved her to celebrate this most remarkable South African woman."
African National Congress (ANC) chairperson Gwede Mantashe said: "I knew Winnie Madikizela-Mandela personally. We come from the same neighbourhood in Soweto.
To many, she was the pride and joy of the nation, an icon in her own right – never mind the fact she was Nelson Mandela's wife.
Mrs Madikizela-Mandela was also the first black social worker in the country. Her love and desire to help those in need was always burning from deep inside.
But she was not nothing but sweet talk. She met the brutality of racial segregation with fire. Each time the police came to arrest her at her home in Orlando West, she held her own.
She never gave in. Not one inch – and sometimes, this landed her in trouble. As anti-apartheid activist Mosioua Lekota noted in her defence: "Those who did nothing under apartheid never made mistakes."
She will be remembered for her fight against an inhumane system, rather than for the mistakes she made in that fight.
However, Mrs Madikizela-Mandela found herself mired in scandal for decades.
She was accused of conducting a virtual reign of terror in parts of Soweto by other members of the ANC in the late 1980s, and heard backing the practice of "necklacing" – putting burning tyres around suspected informants' necks.
She was also found guilty of kidnapping and sentenced to six years' imprisonment for her involvement in the death of 14-year-old township militant Stompie Seipei. She always denied the allegation, and the sentence was reduced to a fine.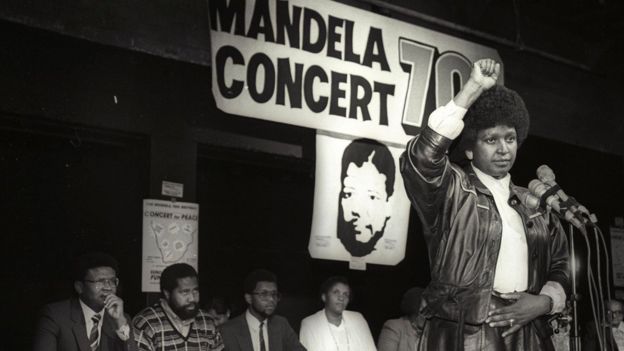 Mr Mandela, who stood by her throughout the accusations, was finally released from prison in February 1990.
But two years later, their marriage crumbled. The couple divorced in 1996, but she kept his surname and maintained ties with him.
She stayed involved in politics, but was again embroiled in controversy when she was convicted of fraud in 2003.
She held several government positions, including as Deputy Minister of Arts, Culture, Science and Technology. A member of the African National Congress (ANC) party, she served on the ANC's National Executive Committee and headed its Women's League.
In 1985, Mrs. Mandela won the Robert F. Kennedy Human Rights Award along with fellow activists Allan Boesak and Beyers Naudé for their human rights work in South Africa. Despite education restrictions that were put on blacks during this time period, she got her social work degree in 1956, and eventually also obtained a bachelor's degree from the University of Witwatersrand. She was also given an honorary Doctor of Laws degree from Makerere University in Uganda in Jan. 2018.