The military has seized control in Zimbabwe but has said President Robert Mugabe, in power since 1980, is safe.
After seizing state TV, an army spokesman announced it was targeting people close to Mr Mugabe who had caused "social and economic suffering".
The move came after Mr Mugabe sacked his deputy, Emmerson Mnangagwa, in favour of his wife, Grace.
Heavy gun and artillery fire could be heard in northern parts of the capital Harare early on Wednesday.
A statement read out by a general on air denied it was a coup and said Mr Mugabe was safe but did not say where.
There was no immediate word from Mr Mugabe himself.
Mr Mugabe, 93, has dominated the impoverished country's political scene since independence from the UK.
Soldiers overran the headquarters of the ZBC broadcaster after armoured vehicles took up position on roads around Harare on Tuesday.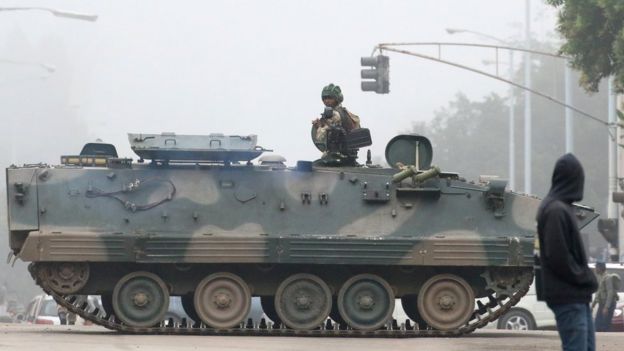 Maj Gen Sibusiso Moyo went on air to say the military wished to "assure the nation that his Excellency the president… and his family are safe and sound and their security is guaranteed".
"We are only targeting criminals around him who are committing crimes… that are causing social and economic suffering in the country,"
"As soon as we have accomplished our mission, we expect that the situation will return to normalcy."
"Citizens should remain calm and limit unnecessary movement"
"The military assures the Zimbabwean judiciary that its independence is guaranteed"
"Security services should "co-operate for the good of our country" and any provocation would "be met with an appropriate response" he said.
All leave for the defence forces is cancelled and personnel should return to barracks immediately
It is not clear who is leading the military action. Army chief Gen Constantino Chiwenga had said the army was prepared to act to end purges within the ruling Zanu-PF party.
A government source told Reuters news agency that Finance Minister Ignatius Chombo had been detained.
He is a leading member of a faction of Zanu-PF led by Mr Mugabe's wife Grace.
Source: BBC